TIDIGARE UTSTÄLLNINGAR
[6 mar - 7 apr 2021]



Monster av Peter Bergting
Peter Bergting, född 1970 i ÅmĂ"l, Ă€r författare, serietecknare och illustratör. Han har bland annat setts i mĂ€ngder av rollspel bĂ"de utomlands och i Sverige. Han har Ă€ven medverkat i The Spectrum Book of Fantastic Art som varje samlar de bĂ€sta fantasykonstnĂ€rerna frĂ"n hela vĂ€rlden.

Sedan flera Är tillbaka jobbar Peter som serietecknare med Mike Mignola (Hellboy) och Christopher Golden med Outerverse universumet dÀr bland annat serierna Joe Golem och Baltimore ingÄr.

PÄ Seriegalleriets utstÀllning stÀller Peter ut signerade reproduktioner frÄn sina tvÄ senaste böcker om drakar och skrÀck.


ARTIKLAR/URKLIPP


ORIGINAL I LAGER AV Peter Bergting (KLICKA NEDAN FÖR ATT VISA)

» SÖK ORIGINAL


BILDGALLERI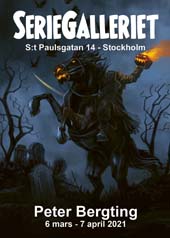 Fatal error: Uncaught Error: Call to undefined function eregi() in /customers/f/d/6/seriegalleriet.se/httpd.www/main.php:88 Stack trace: #0 {main} thrown in /customers/f/d/6/seriegalleriet.se/httpd.www/main.php on line 88